About BLC
Chairman Message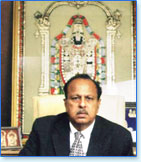 Late Shri J. Bhasakar Rao - Chairman
J.B. Educational Society
In my position as the Chairman of all the J.B. Group of Educational Societies and all the J.B.Group of Educational Institutions, I convey my best wishes to all our relentlessly advancing institutions nestled in a sprawling woody campus of about 106 acres of land, on the main road at Yenkapally, Moinabad Mandal, R.R.District. The efficacy of the group can be witnessed from the establishment of three Engineering Colleges; J.B.Institute of Engineering &Technology; Joginpally.B.R.Engineering College; and Bhaskar Engineering College, besides the manifestation of Bhaskar Medical College and Bhaskar General Hospital. My lifetime ambition and objective being the provision of education, from KG to PG, to the underprivileged students of rural background, we have been providing free education, up to High School level in English Medium, to the poverty-stricken destitutes of our countryside. The management encourages the youth of this state to find their careers in the noble profession of medical practitioner, by imparting quality medical education, and help our people lead healthy lives.
The World since recent times had been moving amazingly fast and fiercely competitive in all spheres of human activity. The said situation called for massive expansion of career focused education, particularly in Engineering, Management and such other professional areas. As a result, there had been mushroom growth of Institutions at a phenomenal level in the private sector. However; it is unfortunate to observe that the quality of education started eroding. The urgent need of the times was to lay emphasis on quality education and to strive vigorously for global excellence and acceptability. It is exactly at this critical juncture of time i.e. in the year 1993, J.B.Educational Society was established to serve the cause of the spread of general, Professional and Engineering education by a team of enlightened persons, under my Chairmanship.
The J.B. Group of Educational Societies has been maintaining an excellent academic track record for more than a decade. The J. B.Institute of Engineering & Technology (1998),Bhaskar Engineering College and Bhaskar Pharmacy College (2007),
Bhaskar Law College (2008)
were established by J.B.Educational Society. Joginpally B.R. Engineering College (2002), Bhaskar Medical College (2005) and Joginpally B.R.Pharmacy College (2007),were established under the banner of Joginpally B.R.Educational Society.
Law College has well developed infrastructural facilities, such as adequate built up area, well equipped laboratories, libraries and information centers with digitalization and automation and on line transaction facilities in the campus. All facilities such as Medical, Transport, Canteen and Games & Sports, are available besides Seminar Halls, Conference Halls, Indoor Auditorium, Open-Air Theatre, Post Office and Banking.
Law students can avail the facilities mad available for the Engineering students to encompassed Jawaharlal Knowledge Centre at J.B.I.E.T and J.B.R.E.C. to empower students to acquire Interactive Communication skills, Technical and employable skills to compete in the Global job market. The policy of this Management is to impart quality education and train the students and for the accomplishment of the same, we have recruited resourceful faculty that are dynamic dedicated and committed to the goal oriented efficient teaching with effective methodology, apart from the principal with vast experience in the field.
National Seminars and Conferences are being organized frequently at our College Seminar Hall, Moot court's college level & inter college level's are being Organized frequently in the college. Experts from Academic and Senior advocates from the High Court & from Lower courts are invited to address and interact with the students. The Management has been sponsoring the deserving students and faculty to present technical papers and participate in the International Conferences in India and abroad. The Management has taken all possible measures for the career development and placement of all the qualified students domestically and globally.
We are fortunate to have the renowned Academic Administrators, eminent scholars of Osmania University and Senior Advocate from High Court, NGO's and Highly qualified parents from the students side on the panel of Governing Body and the Advisory Bodies of J.B.Group of Educational Institutions, who extend their precious advice, and expert guidance, from time to time to formulate strategies in the cause of holistic development of the students.
Finally,I have immense pleasure to welcome and congratulate all the Principals, Faculty, Staff and Students of all the colleges housed in the Campus for their laudable efforts in organizing Infoquest-2009 and Inxs-2009, studded with several student centric activities, spanning over three consecutive days i.e. on 26th, 27th and 28th February, 2009 and also for bringing out a souvenir "Spoorti-2009" to commemorate the events.